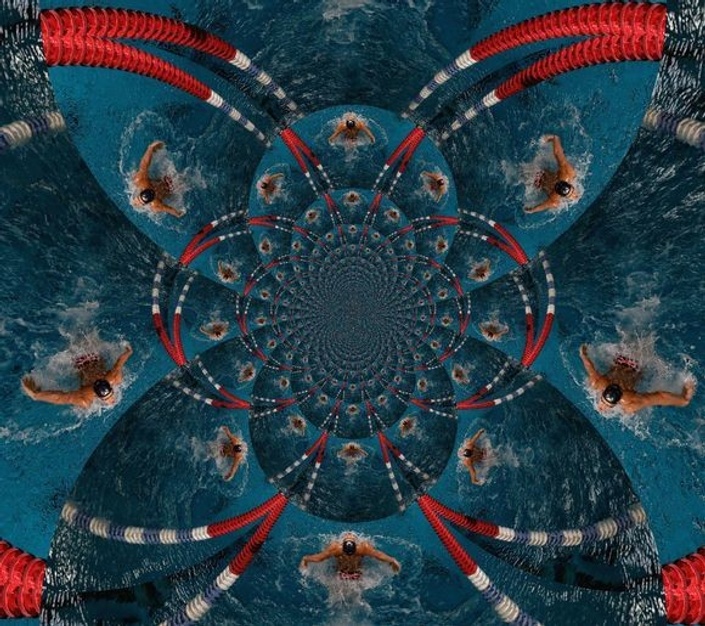 PROVEN TECHNIQUE TIPS THAT WILL HELP YOU SWIM FASTER FASTER IN ALL FOUR STROKES
Simple fixes for common technique issues in all four strokes demonstrated with underwater video footage.
If you have been swimming for years and are frustrated with your progress or you are not dropping time regardless of working so hard in the pool - this free 8 day technique course will help you swim faster faster.
Technique is hugely important in swimming efficiently as you can always tweak something to reduce drag and increase propulsion but you cannot get fitter than fit! This eight part course, demonstrated by Michael Andrew, Coached by Dad and Coach, Peter Andrew, will provide you with proven technique tips for all four strokes (Breaststroke, Butterfly, Backstroke and Freestyle), Breast and Butterfly Turns, Backstroke Breakout, Backstroke Turn and IM Crossover Turn.
We are excited to bring this type of detailed instruction to the swimming community via the world wide web to help you swim faster faster! All we ask is that you come back, provide feedback, ask questions and share this with a friend if it has helped you.

Your Instructor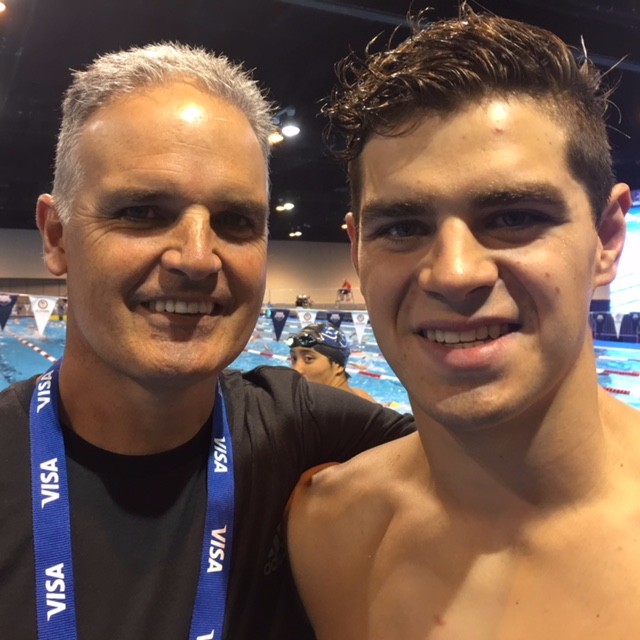 PETER ANDREW
Born and raised in South Africa, Peter Andrew became a member of the Naval Operational Dive Team with the South African Naval Defense Force before earning his business management degree from Natal Technicon.
Peter's professional resume includes a well-rounded background in a variety of businesses such as pest control, agriculture, and home restoration.
An avid swimmer growing up, having been captain of his swim team and a Victor Ludorum award winner, Peter helped establish his own swim club, the Aberdeen Aquaholics, when living in Aberdeen, South Dakota. The team has since moved to Kansas and has evolved into Indie Swimming now called Race Pace Club, home of World Junior Champion swimmer and Peter's son, Michael.
Through Michael's impressive performances on the domestic stage, in the form of over 80 U.S. National Age Group Records, as well as internationally, with Michael's World Junior Championship title and medals, along with multiple World Cup medals and appearances, Peter's influence within the swim coaching community has been gaining notice.
Peter has recently been invited to speak at several international conferences on the topic of Ultra Short Race Pace based Training (USRPT), the training methodology he believes in and applies to the Race Pace Club. It was evident at a young age that Michael was a natural talent in the pool and, naturally, Peter wanted to cultivate his son's gift as effectively as possible. After exploring coaching options and not finding the support and instruction believed to be the best fit for his young prodigy, Peter decided to take on the task of coaching his son personally.
Being met with resistance at various facilities, the Andrew family decided to take on the task of building their own pool in order to have Michael train in an environment that was conducive to both his physical talents, as well as his spiritual wellbeing.
Having attended a conference where Dr. Rushall, considered the pioneer of modern USRPT, was speaking, Peter determined that the 'against the grain' training method was indeed the right recipe for Michael to excel within the sport, both physically and mentally.
After immersing himself in all things USRPT, Peter armed himself with the knowledge and science behind the training in order to coach his son Michael in a supportive, balanced environment. The overall goal was to create and maintain surroundings, in which Michael could enjoy practicing, maintain his enthusiasm for the sport and avoid burning out. In his coaching role, Peter carries out USRPT based Race Pace Training as a complete training method for Race Pace Club; not just as a component of a larger program. Peter approaches coaching swimming as an entity with four core components. Four stemmed entity consists of Technique, Conditioning, Psychology, and Nutrition. As a result of his implementation of the disciplined science based training methodology successfully through Race Pace Club, Peter is a highly sought after clinician and speaker visiting clubs nationally and internationally to give presentations on Michael's USRPT based Race Pace training.
MICHAEL ANDREW
Michael Andrew is an athletic phenom, famous for breaking the most National Age Group Records in USA Swimming history. Over the course of his young career, the Kansas native holds more than 100 National Age Group (NAG) records, and currently holds a total of 18 national marks; 10 in short course yards and 8 in long course meters. He also holds Junior World Records in the 50m free, back, and fly, which he broke at the 2017 World Junior Championships. Michael has chosen to follow anything but the usual path towards his success both in and out of the pool, and that's what makes his story really stand out.
Andrew is the youngest swimmer in history to turn professional, doing so June 2013 at the tender age of 14. Andrew signed with P2 Life, a high-performance nutrition supplement manufacturer, therefore, giving up his high school and NCAA eligibility. See complete story here.
At the age of 14, Michael signed his second partnership with Fortune 500 company Mutual of Omaha, specifically for their Mutual of Omaha BREAKOUT Swim Clinic tour. See complete story here.
At the age of 16, Michael signed a multi-year partnership with Adidas, joining mega-stars Allison Schmitt and Brazil's Cesar Cielo in representing the competitive swim brand. See complete story here.
Blessed with height, as well as hefty hands and feet, young Michael was born in the United States by two excellence ­driven parents. Former naval diver father Peter and former British Gladiator mother Tina were both born and raised in South Africa and, with Michael and sister Michaela, see Michael's career as a family affair. Their family home in Lawrence, Kansas even sports its own training facility in the backyard. An 87′ x 16′ above ground pool with a deck around is where Michael is trained by father, Peter, according to the science-­based methodology coined Ultra Short Race Pace Training, or USRPT.
USRPT
Michael Andrew credits his success in swimming largely to his training style, USRPT, aka Ultra Short Race Pace Training. USRPT is a training format built on scientific evidence gathered by Dr. Brent Rushall. It is race-pace training using an ultra-short training format.
MEETING DR. BRENT RUSHALL – CHOOSING USRPT
After meeting Dr. Brent Rushall, the San Diego State University professor considered by most to be the expert on USRPT, at an ASCA conference in 2009, Michael's parents were enthralled with the ideas and tenets of this unique training method. The training system's credo dictates that swimmers engaging in USRPT undergo very specific training with very specific times, thus eliminating what is termed junk yardage. This concept appealed both to Michael and Peter. Instead of trudging out 12,000 yards daily through traditional training, Michael swims in the range of 2500 to 3000 yards per day, focusing on the same speed he would churn in a race. Intensity and top speed are certainly keys to USRPT, but the overall goal is to perfect technique.
TEAM ANDREW INDIE SWIMMING aka THE RACE PACE CLUB – THE BRAND
Team Andrew Indie Swimming, The Race Pace Club, provides opportunities through private coaching and year round swim camps for excellence-oriented competitive swimmers to achieve their full potential in the sport. Swimmers are exposed to individualized programs that innovatively employ appropriate scientific principles from the bio-mechanics, psychology, and physiology of human performance. The relevant nature of this orientation leads to performance improvements.
The principles that guide The Race Pace Club's training and competitive activities focus on relevant procedures that prepare swimmers to improve and race in a satisfying manner. A consistent factor that underlies program content is the evaluation of training performances and the analysis of their relevance to intended swimming races. We are a coach owned club.
NATIONAL/INTERNATIONAL CAREER
Michael has been dominating the international swimming scene since his debut in 2015 at the Junior World Championships.
In Singapore, Michael was named FINA Male Swimmer of the Meet after collecting a gold, three silvers and a bronze medal. His gold came in the 50 meter backstroke. After breaking the Championship Record in the heats, he went on to take down the rest of the field in the final in another Championship Record of 25.13. His silver medals came in the 50 meter freestyle and butterfly and the 400 meter medley relay. His bronze came in the 400 meter mixed medley relay.
Despite an impressive showing, Michael was disappointed with his performance at the Junior World Championships. He said he was looking to break Junior World Records and pick up more than his one gold medal and that the absence of his father and coach made a big impact on him.
2016 U.S. OLYMPIC TRIALS
At just 17 years old, there were a lot of eyes on Michael in Omaha to see if he would make to Olympic Team. He came agonizingly close, but was unable to push his ticket to Rio. His first event was his best event, the 100 meter breaststroke. He broke the Junior World Record in the heats and then again in the final, but his 59.82 mark was just 0.64 seconds away from making the team as he touched home in fourth.
He also reached the final in the 200 meter individual medley, but scratched to focus on the 50 meter freestyle semi-final that fell on the same night. After finishing 11th, he failed to move on to the final. Michael also swam in the 100 meter butterfly finishing 15th overall and 100 meter freestyle finishing 76nd overall.
2016 WORLD SHORT COURSE CHAMPIONSHIPS
Michael won his first senior international medal at the World Short Course Championships in Windsor, Canada. He swam to the gold medal in the 100 individual medley in 51.84. He also placed 23rd in the 200 IM (1:57.87) and 9th in the 50 breast (26.39).
2017 WORLD JR. CHAMPIONSHIPS
Going into the 2017 World Junior Championships, Michael knew he was again swimming a lot of 50's and had adjusted his training accordingly for the season, which paid off in a big way for the 18-year-old at his swan song for junior competition. Andrew broke world junior records in the 50m free (21.75), back (24.63), and fly (23.22), taking gold in all 3 as well. He also earned a bronze in the 100m breast (1:00.37), and 8th place in the 200m IM (2:07.27).
Thank you SwimSwam https://swimswam.com/bio/michael-andrew/ for Updated Bio Info!
Frequently Asked Questions
When does the course start and finish?
The course starts now and never ends! It is a completely self-paced online course - you decide when you start and when you finish.
How long do I have access to the course?
How does lifetime access sound? After enrolling, you have unlimited access to this course for as long as you like - across any and all devices you own.
What if I am unhappy with the course?
We would never want you to be unhappy! If you are unsatisfied with your purchase, contact us in the first 30 days and we will give you a full refund.